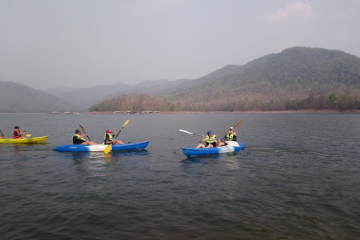 Today after breakfast, we went mountain biking. When we arrived at the area where the bikes were, we had to go through safety instructions and procedures before we were allowed to bike. All of us had to bike in a single file line on the left side of the road as to avoid blocking the whole road. This was something that I was concerned with because it has been a while since I have ridden a bike. I was worried that I would fall behind or fall down. I am very happy I overcame that fear and had the opportunity to ride with my friends.
We had to bike for a total of 15 km before we reached the restaurant. It was really tiring because we had to bike in the sun and we had to change our bike's gears each time we were going up or downhill. It was also really fun because whenever we bike on the main concrete road, it would be really smooth. I would also purposely lack behind a little because whenever I feel a little breeze coming, I would speed up so that the wind could blow against me. Some struggles to figure out the gears or would forgot to brake at times, which caused them to fall out of their bikes but they seemed pretty content after that.
As tiring as it was, it was a pretty entertaining activity because I think it was a really good way to cool off from the activities we did yesterday while still doing something productive. I really enjoyed mountain biking because as we bike, there were times where we saw the mountains beyond the landscape and it was really beautiful.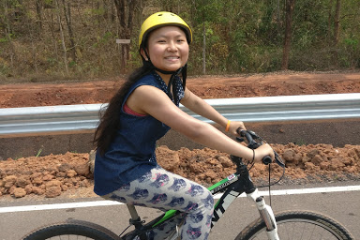 -Student 1
Today, we went kayaking. I was super hyped for kayaking; I hope the others felt the same. We arrived at a national park, the teachers (AKA Mr. AK) taught us how to use the paddles properly. We pushed the kayaks into the lake and we started paddling. We split into teams and I went with Mr. Jay; him and I paddled with the other teams for about 4 km.
We reached another spot and we played "evolution." It was very funny hearing everyone doing noises to let everyone know what they are. Shortly after we had reached our houseboat, where we will spend the night and have dinner. I am looking forward to going to Elephant Nature Park, it will be my first time there and I can't wait to interact with the elephants.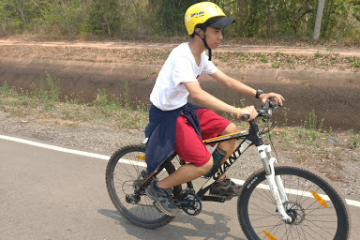 -Student 2
Today was phenomenal, even better then yesterday. This morning we biked 15 km and it was very tiring but I enjoyed it, especially the part when we had to ride down a ramp, through the watery road and up a hill. It was one of the most nostalgic moments of the trip so far and I felt like I was part of a skateboard competition. The best part of today was when we went Kayaking, we played "evolution" and "balance", and it was full of excitement and amazement.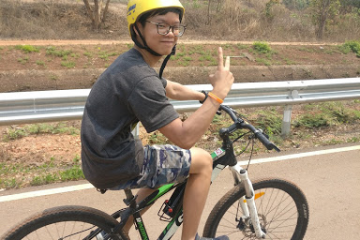 -Student 3