We read to children for many of the same reasons we talk with them: to reassure, entertain, bond, inform, arouse curiosity, and inspire. But reading aloud goes further than the immediate pleasures of spending time with your child and sharing the enjoyment of a good book. The long-term benefits of reading aloud help your child to read better, think better, imagine more richly, and become a passionate and lifelong reader. Reading aloud is "the single most important activity for building the knowledge required for eventual success in reading" (Becoming a Nation of Readers, 1985).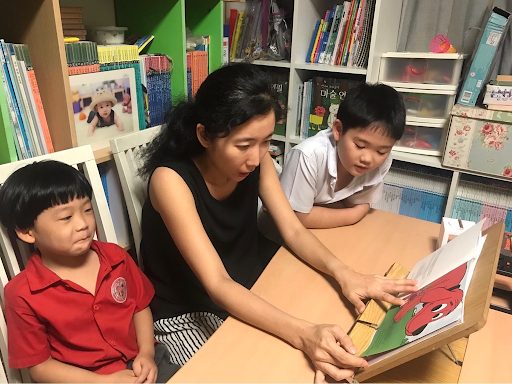 A cornerstone of daily and weekly routines is family reading. Engaging your child in reading has the potential to support interest and engagement in reading and accelerate vocabulary and concept knowledge, knowledge about print and words, and comprehension development for younger AND older children to about age 14 years.
Two Important Guidelines for Effective Parent-Child Read Alouds
DO
Begin reading to children as early as they can be supported to sit and listen.
Read aloud to children daily for 10 – 15 minutes or more.
Have a set time each day set aside for reading aloud. Many families find reading aloud before going to bed at night to be a wonderful way for parents and children to bond and settle children down for a good night's sleep.
Read picture books to all ages, but gradually move to reading longer books without pictures as well.
Vary the topics and genre of read-aloud selections.
Read books that stretch children's intellectual and oral language.
Allow plenty of time for interaction and conversation before, during and after the reading. Encourage your child to respond to the book.
Use plenty of expression and enthusiasm.
Add another dimension to reading by occasionally using hand movements or puppets or other props.
Use rhymes, raps, songs, chants, poetry and pictures to stimulate oral language, listening and interaction with others.
Lead by example. Let your children see you reading or carrying a book with you.
DON'T
Don't read aloud books and stories you don't enjoy yourself.
Don't read aloud books your child can read independently. Instead, have a "book talk."
Don't read aloud books and stories that exceed your child's emotional development.
Don't continue reading a book you don't like. Admit it, and choose another.
Don't impose your interpretations and preferences on your child.
Don't confuse quantity with quality.
Don't use reading aloud as a reward or punishment – "If you don't clean your room, no story tonight!" This will foster a negative attitude about reading.
Parent Resources:
Julie Gibson is a Grade 2 teacher with a special interest in literacy, at The Canadian International School of Phnom Penh.
Photos by Mrs. Yongiu Song and Mrs. Hyeyoung Song
References:
International Reading Association and the National Council of Teachers of English (2011) Handbook of Research on Teaching the English Language Arts
National Academy of Education., & Anderson, R. C. (1985). Becoming a nation of readers: The report of the Commission on Reading. Washington, D.C: National Academy of Education
Reutzel, D.R. & Cooter, Jr., R.B. (2019). Teaching Children to Read: The Teacher Makes the Difference. (8th ed.). New York, New York: Pearson
Trelease, Jim. ( 2006). The Read-aloud Handbook. New York :Penguin Books