We offer our students a safe, nurturing, exciting environment for discovery and care. We know that children learn best in a caring, stimulating, age appropriate environment. At CIS we help children develop independence, confidence and a joy of learning at all levels.
CIS provides the following School Services:
Cafeterias
Chefs prepare all meals on-site at our Koh Pich campus. Meals are delivered to our other campuses a short distance away. The lunch menu is circulated to CIS parents via the CIS Weekly newsletter.
Middle and High School students may purchase healthy snacks and drinks from the Maple Leaf Cafe at Koh Pich. Cash payments only.
Lunch Program Registration
Parents may register their child for the lunch program for a full academic year or a semester. Lunch program fees vary by grade level. Please see the CIS tuition and school fees schedule for information. To register, please contact the Cashiers Office at cashier@cisp.edu.kh.
Food Allergies
All CIS campuses are nut-free zones. Parents are asked to refrain from sending peanuts (or other nut products) to school with their children.
All students disclose food allergies when enrolling at CIS. To update allergy information for your child, please contact CIS' school nurse at nurse@cisp.edu.kh.
SCHOOL BUS SERVICE POLICY AND GUIDELINES
General Information
School bus service is open to students from ages 3 and up.
Only CIS and EFI students are able to register for the school bus service.
Bus service is offered for students at Koh Pich, Bassac Garden and Olympia City campuses.
Students living in the close vicinity to the Koh Pich campus may be eligible to use the buggy
Bus service operates in the morning before school and in the afternoon after school.
During the COVID pandemic, the number of students on a bus will be limited and other safety procedures will be put in place.
Arriving and Departing Time
Buses are scheduled to arrive at the Campuses at 7:50 a.m. and depart at 3:20 p.m.
At the start of the school year, our school staff will contact each family and inform them of their morning pick-up time and afternoon drop-off time.
The bus routes will be reviewed for efficiency throughout the first month. Adjustments can occur throughout the year if there are changes in the route or passengers. The transportation officer will notify parents of any changes to the pick-up/drop-off times.
Rules and Regulations
Students under 3 years old are not allowed to use the bus service.
Parent/legal guardian/authorized person must be at the bus stop to drop off and pick up the child prior to the scheduled time.
Parent/legal guardian/authorized person will assist the child onto and off the bus.
Only students in Grade 6 or above may sit at the front of the bus.
All students must wear seat belts at all times while on the bus. Students are not permitted to unlatch their seatbelts when the bus is not moving or for any reason other than to exit the bus.
Students should sit properly in their seats, including removing their backpacks.
If your child is not at the designated pick-up point when the school bus is ready to depart, the bus will not be able to wait, otherwise your child's tardiness will result in all students arriving late to school. Please be on time.
If a parent/guardian/authorized person is not at the designated drop-off point, the driver will not allow the student to disembark from the bus. The student will be returned to the school and the parents will be contacted to collect the child from the school.
If a sibling over the age of 10 is accompanying a younger sibling age 3 and up, this will be considered sufficient supervision for that child if agreed by parents/guardian.
Students who show symptoms of sickness while in school will need to be picked up by a parent/legal guardian to go home.
No medication of any form will be administered by the school bus staff to any student. A sick child should not be sent to school. First-aid supplies for minor abrasions will be kept in each bus.
School buses are monitored by camera/CCTV.
All items that are not permitted at school are also not permitted on the bus. Please refer to the Parents' Handbook.
The bus service and CIS are not responsible for any loss of personal items while under our care or throughout the travel period of the bus.
Please help us provide a safe environment for all students by ensuring that objects that may be a safety hazard are kept in their school bags and must remain there. Such as:
Coins, monetary notes, or any pointed/ sharp objects. Jewelry should not be worn to school and toys should be left at home.
Mobile phones, tablets, laptops and other electronic gadgets which can cause distraction. These may only be brought to school if the child is in Grades 6 – 10 and the device is needed for the education program. We do not encourage phones at school and they must remain in the student's school bag at all times.
In an effort to maintain order, security, and discipline, and to avoid compromising the safety of the students and/or others, if a child demonstrates a lack of self-discipline or does not follow the instructions and safety rules, the parent/guardian will be contacted to collect their child and the child may be excluded from using the bus service for a period of time, as determined by the school administration.
Please notify the school ahead of time if your child is not going to be on the bus due to illness or for any other reason.
Parents are responsible for ensuring their children are aware of the above rules and regulations.
If a student or parent fails to comply with the above policy and guidelines, the school reserves the right to withdraw this service.
Parents should report any safety concerns regarding the bus service to the school.
Parents are responsible for ensuring the school has their up to date contact information in order to be contacted quickly in cases of delay, emergency, etc.
Extra Measures in Place Due to Covid
Windows of the bus will remain open
Temperatures will be checked before boarding – anyone with a temperature of 37.3٥ C or higher is considered to have a fever and will not be permitted onto the bus.
Hands will be cleaned with hand sanitiser before boarding.
Masks are to be worn at all times.
Distancing will be kept by staggering the seating.
Parents will be made aware that bubbles will not be maintained on the bus.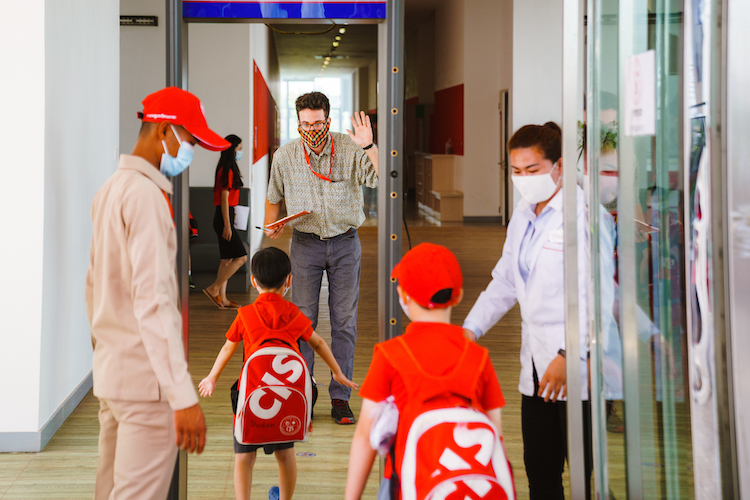 Student Health
CIS employs a school nurse. Personal health and hygiene practices are taught to students and staff. All toys and classrooms are disinfected daily. We follow strict internal policies to limit the spread of contagious diseases among our students.
If your child requires medication to be taken during school hours, please complete the Student Medication Form HERE or from Reception. Our school nurse will keep this form for records. All records are kept private.
Security
We make the safety and security of all students a very high priority.
CIS is a secure school with guards. Students/parents will be issued security passes. All caregivers will also be issued security passes.
As well as two fully equipped libraries CIS operates a full virtual library. The CIS virtual library can be accessed here.
All CIS students on our Koh Pich campus are required to wear their school-issued uniform. Preschool students at our Bassac Garden and Olympia City campuses are encouraged to wear uniforms to become accustomed to the practice.
CIS has one classroom uniform for boys and girls: grey shorts and a red, collared T-shirt. Similarly, there is one Physical Education uniform for boys and girls: soft grey shorts and a red T-shirt. Red and grey zip-up jackets and red hats are also available. Shorts, T-shirts and jackets are available in all sizes.
To order and pay for uniform items, please contact the Cashiers Office at cashier@cisp.edu.kh.
Items can be collected from the Cashiers Office from Monday to Friday, 7:45 a.m. to 4:45 p.m., and on Saturdays, 8:30 a.m. to 11:30 a.m..
Schoolwide updates
CIS is in regular contact with parents regarding activities, events and important information. Our main form of communication is our email newsletter, the CIS Weekly, which all parents receive.
Urgent notices are sent to parents via email, Seesaw (Nursery to Grade 6), Google Classroom (Grades 6-10) and, if necessary, by text and telephone as well. All COVID-19-related notices have been consolidated on our website for quick access.
Website and social media
CIS shares information via its YouTube channel, website and two Facebook accounts: CIS (schoolwide) and CIS Preschools. Students release episodes of "The Daily Bears" via their YouTube channel.
Academic calendar
Events, holidays and key dates are listed in the academic calendar. Due to health and safety measures related to COVID-19, the dates are subject to change.
Gibbon
Gibbon is the school's student information database. It gives parents instant access to their child's timetable, attendance records and report cards. Parents are also able to register their child for extracurricular activities and update their family's contact information.
Parent-Teacher communication
Teachers post daily classroom updates for parents in Seesaw (Nursery to Grade 5) and Google Classroom (Grades 6-10). Daily updates are especially important for parents with very young children who are making the transition from home to school. Parents will meet teachers, and often principals, at the school gates at the beginning and end of the school day.
Each semester, parents are invited to attend a parent-teacher interview. This is an important opportunity for teachers to explain student learning outcomes. Parents are encouraged to ask questions and to share their experiences of supporting their child's learning at home. Of course, parents are welcome to contact their child's teacher or to request a meeting at any time throughout the year. English-Khmer and English-Mandarin translation assistance is readily available.
CIS Parent Organization
All parents are invited to attend CIS Parent Organization (CISPO) meetings at which administrators and faculty present deeper dives into topics of interest. Parents are welcome to ask questions and to make suggestions. We greatly value feedback from our parents, and we encourage them to inform us whenever they believe we can better serve the students in our care. CISPO meeting dates are communicated via the CIS Weekly.